Mission Statement
As I have loved you, so you also should love one another. This is how all will know that you are my disciples, if you have love for one another.
We, the members of Mary, Mother of God Parish, strive to serve God and each other in a manner that invites, welcomes and bonds all members. We dedicate ourselves to ministering to and evangelizing our own members and the greater community in the servant image of Jesus.
This ministry and evangelization is grounded in the sacraments, especially the Eucharist and the rich tradition of the Catholic Church which strengthens and invigorates us to be disciples of Jesus.
Vision Prayer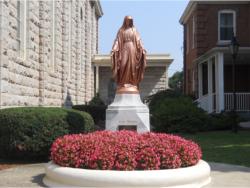 Jesus, we are your people. We praise you as Savior and Lord. Deepen our commitment to You, Your church, and each other.
Let us all share more actively in spreading the good news of God, present among us. Help us reach out to those who have not yet experienced the joy of participating in parish life.
Inspire us to seek justice and peace for all members of our parish family and beyond. Assist us in living Your Gospel of compassion and love in service to those in need.
Mindful of our many blessings, we are especially grateful for your gift of our parish family ... a family dedicated to Mary, Mother of God, her spouse, Joseph, and our beloved saints, Anthony, Vincent, Stanislaus, and Stephen.
Lord, send us Your Spirit, make us alive as we have never been.
Let us celebrate together and place our hope in You.
Amen